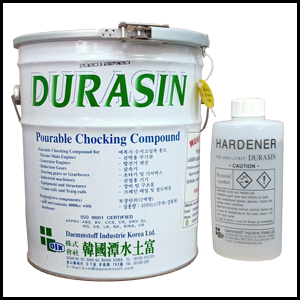 DURASIN
EL Wanis Marine workshop (W.M.W) is the agent for DIK products ( DURASIN, KVM, MANGANA ) in Egypt, the Kingdom of Saudi Arabia& Sultanate of Oman.
DURASIN Epoxy Marine Chocking compound 
DURASIN Epoxy Marine Chocking compound is produced by DIK Company South Korea which is a DNV Management System Certified Company.
DURASIN Epoxy Marine Chocking compound has Classification Society Approvals from (ABS, BV, RINA, IRS, NK, KR, LR, DNVGL, CR, and CCS)
DURASIN Epoxy Marine Chocking compound is the most powerful chocking marine product in terms of type approval & physical properties.
DURASIN Epoxy Marine Chocking compound is the first choice for shipyards in South Korea and China.
Technical specification:
DURASIN CHOCKING/GROUTING PRODUCT consists of two components: Resin & Hardener and is pourable. It cures at normal temperatures to become an extremely tough and durable solid. The compound is non-shrinking and has very high impact, compressive strength, hardness, shear strength, and compressive modulus of elasticity…ETC.
DURASIN is an epoxy-based compound containing 100% solids and it could be used as a MARINE EPOXY CHOCKING PRODUCT.
Uses:
MARINE INDUSTRY: Main & Auxiliary Engines, Gear Boxes, (Propulsion/Reduction, Dredge Pump, etc.), Steering Gear, Rudder Stock, Transom Flanges, Stern Tube, 'A' Brackets, Deck Machineries (Windlass and various Winches, etc.), Cutlass Bearing (Stern Tube Installation), Shaft Generators, Alternators, DG Sets, FIFI (Fire Fighting) Pumps and LNG/LPG Tank Mounting System, etc.
GENERAL INDUSTRY: Stationary and or Rotary Engines, Pumps, Generators, Heavy Electric Motors, Compressors, Turbines, Slew Ring Bearings, Transformers, etc.
SHIPYARD, WORKSHOPS, and HARBOR:   Crane Rail Foundations.
Construction /Road Building Industry: 'Crusher Wear Plates Backing Compound' for Cone Crusher, Large Gyratory Crusher, and Primary Crusher.
Previous jobs:
Egyptian Market :
EL Wanis Marine workshop (W.M.W)  used DURASIN in Egypt for MAN B&W Diesel engine (GL 32/40), 4320KW, 51 TON DURASIN poured, and all work carried out and delivered to the experts of MAN & DNV GL class.
Egyptian Navy.
Suez Canal Authority.
Many companies & so many Shipping companies.
Global Market :
HYUNDAI HEAVY INDUSTRIES (SOUTH KOREA) (hhi.co.kr).
HYUNDAI SAMHO (hshi.co.kr).
SAMSUNG (samsungshi.com).
DSME (dsme.co.kr).
M/s. TSL (Tebma Shipyards Limited)/Ms. CSL.
(Cochin Shipyard Limited).
M/s. ABG Shipyards Mumbai on their vessels in Hazira.
M/s. Alcock Ashdown Gujarat Ltd. (AAGL).
To order the product,

DURASIN

Epoxy Marine Chocking compound

click here
Durasin in Egypt, Durasin in Saudi Arabia, Durasin in Oman, Durasin in Middle East, KVM in Egypt, KVM in Saudi Arabia, KVM in Oman, KVM in Middle East, Fire stop in Egypt, Fire stop in Saudi Arabia, Fire stop in Oman, Fire stop in Middle East, Mangana in Egypt, Mangana in Saudi Arabia, Mangana in Oman, Mangana in Middle East, Alignment in Egypt, Alignment in Saudi Arabia, Alignment in Oman, Alignment in Middle East, ALIGN & CHOCK in Egypt, ALIGN & CHOCK in Saudi Arabia, ALIGN & CHOCK in Oman, ALIGN & CHOCK in Middle East, Propeller Shaft in Egypt, Propeller Shaft in Saudi Arabia, Propeller Shaft in Oman, Propeller Shaft in Middle East, Alignment Systems in Egypt, Alignment Systems in Saudi Arabia, Alignment Systems in Oman, Alignment Systems in Middle East, Clutch & Gear Box in Egypt, Clutch & Gear Box in Saudi Arabia, Clutch & Gear Box in Oman, Clutch & Gear Box in Middle East, Hydraulic & Deck Machinery in Egypt, Hydraulic & Deck Machinery in Saudi Arabia, Hydraulic & Deck Machinery in Oman, Hydraulic & Deck Machinery in Middle East, Rudder in Egypt, Rudder in Saudi Arabia, Rudder in Oman, Rudder in Middle East, pumps in Egypt, pumps in Saudi Arabia, pumps in Oman, pumps in Middle East, Balance in Egypt, Balance in Saudi Arabia, Balance in Oman, Balance in Middle East, Bore Alignment in Egypt, Bore Alignment in Saudi Arabia, Bore Alignment in Oman, Bore Alignment in Middle East, Vibration in Egypt, Vibration in Saudi Arabia, Vibration in Oman, Vibration in Middle East, Alignment, adjusting alignment, axes, bore alignment, vibration, vibrations, vibration analysis, balancing, dynamic balance, static balance, propeller blades, copper bushing, cutlass bearing, cutless bearing, bearing, bearings, dx bearing, blades, bushings, propeller shaft, thordon, sordon, rubber, lugnam vita bushings, vibration measurements, vibration measurements devices, vibration causes treatment, wire tightening, propeller shafts, propellers, packing, stuffing box, rudder, rudders, simplex, yacht, yachts, yachts maintenance, propeller shaft overhauling, bushing bearings, shock absorber, vibration absorber, sea, marine, chockfast, absorber, hydraulic, winches, crane winches, telescopic winches, blacksmith winches, towing cranes, zodiac cranes, cranes, surface cranes, surface components, diesels , diesel engines, diesel engines maintenance, pumps, pumps maintenance, water pumps, multi stage pumps, oil, gas, fuel, Hydraulic pumps, voith Schneider, z-drive, controllable pitch propeller, variable pitch propeller, constant pitch propeller, azimuth, azipod, bow thruster, gears, gearbox, gear boxes, od box, gaskets, o-ring, o-rings,