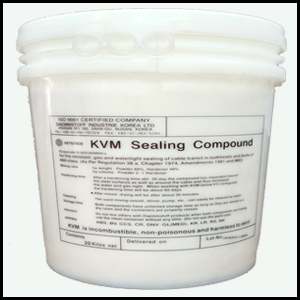 KVM
cable penetration sealing compound
EL Wanis Marine workshop (W.M.W) is the agent for DIK products (DURASIN, KVM, MANGANA) in Egypt, Kingdom of Saudi Arabia & Sultanate of Oman 
KVM is produced by DIK Company South Korea which is a DNV Management System Certified Company.
KVM Product consists of Powder, Hardener and Retaining Compound (MANGANA)
KVM has Classification Society Approvals from (ABS, BV, RINA, IRS, NK, KR, LR, DNVGL, CR, CCS, RS, BMI, CCG, NL, and NMD)
KVM is one of the best cable penetration sealing compound products in the world.
KVM is the first choice for shipyards in South Korea and China.
KVM Validity: Unlimited storage time in a dry place.
Features:
fire stop

Water and gas tightness

Does not shrink or does not shrink

INCOBUS- TIBLE

non-toxic

harmful to skin

Unlimited validity
Uses:
KVM is used in the marine industry for fire-, gas- and water-tight sealing of cable passage and penetration into Type A 60 headers and bulk decks . It is also used in industrial plants and offshore platforms / services for fire protection.
Specifications

:
SOLAS 1980 & IMCO.
previous works:
Egyptian market
Alexandria Arsenal.

Triumph (Ship: Freedom 3).

Many companies, many shipping companies.
global

market
HYUNDAI HEAVY INDUSTRIES (South Korea) (hhi.co.kr).

Hyundai Facebook (hshi.co.kr).

Samsung (samsungshi.com).

DSME (dsme.co.kr).

Ms.

Temba Shipyards Limited (Chennai).

Ms.

Geometry of the Sun (Ratnagiri) m/s.

Templo dry docks (by air).

Ms.

Energy Center (by air).
.

To order the product,

click

here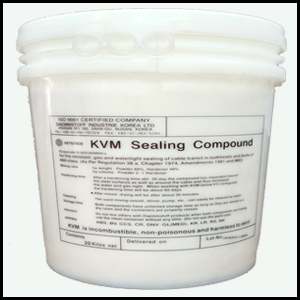 Durasin in Egypt , Durasin in Saudi Arabia , Durasin in Oman , Durasin in the Middle East , KVM in Egypt , KVM in Saudi Arabia , KVM in Oman , KVM in Middle East , Fire stop in Egypt , Fire stop in Saudi Arabia , Fire stop in Oman , Fire stop in the Middle East , Manggana in Egypt , Manggana in Saudi Arabia , Manggana in Oman , Manjana in the Middle East , Alignment in Egypt ,Alignment in Saudi Arabia , Alignment in Oman , Alignment in the Middle East , Alignment and Beaming in Egypt , ALIGN & CHOCK in Saudi Arabia , ALIGN & CHOCK in Oman , ALIGN & CHOCK in the Middle East , Propeller Shaft in Egypt , Propeller Shaft in Saudi Saudi Arabia , Propeller Shaft in Oman , Propeller Shaft in Middle East , Alignment Systems in Egypt , Alignment Systems in Saudi Arabia , Alignment Systems in Oman , Alignment Systems in Middle East ,Clutch and Gear Box in Egypt , Clutch and Gear Box in Saudi Arabia , Clutch and Gearbox in Oman , Clutch and Gearbox in Middle East , Hydraulic Machines and Surface Machinery in Egypt , Hydraulic Machines and Surface Machinery in Saudi Arabia , Hydraulic Machines and Surface Machinery in Oman , hydraulic machinery and surface machinery in the Middle East , rudder in Egypt , rudder in Saudi Arabia , rudder in Oman , rudder in the Middle East , pumps in Egypt , pumps in Saudi Arabia ,Pumps in Oman , Pumps in the Middle East , Balance in Egypt, Balance in Saudi Arabia, Balance in Oman, Balance in the Middle East, Cavitation alignment in Egypt, Cavitation alignment in Saudi Arabia, Cavitation alignment in Oman, Cavitation alignment in the Middle East Vibration in  Egypt Vibration in Saudi Arabia Vibration in Oman Vibration in the Middle East, alignment, alignment tuning, axles, bore alignment, vibration, vibrations, vibration analysis, balancing, dynamic balancing, static balancing, propeller blades, copper bushings, cutter bearing, no-cut bearing, bearings, dx bearings, blades, bushings, propeller shaft , Thordon, Sordon, Rubber, Bushings Lognam Vita, Vibration Measurements, Vibration Gauges, Vibration Cause Treatment, Wire Tightening, Propeller Shafts, Propellers, Packing, Stuffing Box, Rudder, Rudder, Simplex, Yachting, Yachting, Yachting Maintenance, Propeller Repair Shaft, bushing bearings, shock absorber, shock absorber, offshore, marine, shockfast, sucker, hydraulic, winches, crane winches, telescopic winches, forging winches, towing cranes, tower cranes, cranes, surface cranes, surface components, diesel, diesel maintenance Diesel engines, pumps, maintenance pumps, water pumps, multistage pumps,oil, gas, fuel, hydraulic pumps, voith schneider, z motor, adjustable step fan, variable step fan, fixed step fan, azimuth, arc motor, gears, gearbox, gearboxes, od box, gaskets, o-ring Oh rings,